You may want to use Immerse Virtual Studio to monitor the output from Pro Tools as a Standalone application, instead of inserting the plugin into your project directly.

Perhaps you have a lot of plugins and effects and are having performance issues in Pro Tools, in this case you may find more efficiency on your system by using the Immerse Standalone.

Watch this video or follow the steps below:

1. Set your Playback device to Immerse Audio Bridge (Mac) or Immerse Virtual Studio (PC)
2. Do not send your surround sound or Atmos mix bus to your headphone output, but instead select a surround sound bus.
3. Select "default" for your path assignments.


4. Launch the Immerse standalone application, and select the "ProTools Bus" Channel configuration that matches the number of channels you are working with.
5. Open Options --> Audio/MIDI Settings
6. Check your settings and devices

For Mac:
a. Output: your headphone device
b. Input = "Immerse Audio Bridge"
c. Set sample rate and audio buffer size (512 recommended).
d. Uncheck feedback loop
For Windows:
a. Monitoring Source = Immerse Audio Bridge (ProTools.exe)
b. Set Audio device type to Windows Audio
c. Set your output device to your headphones
d. Set your sample rate and buffer size (512 recommended)
e. Uncheck feedback loop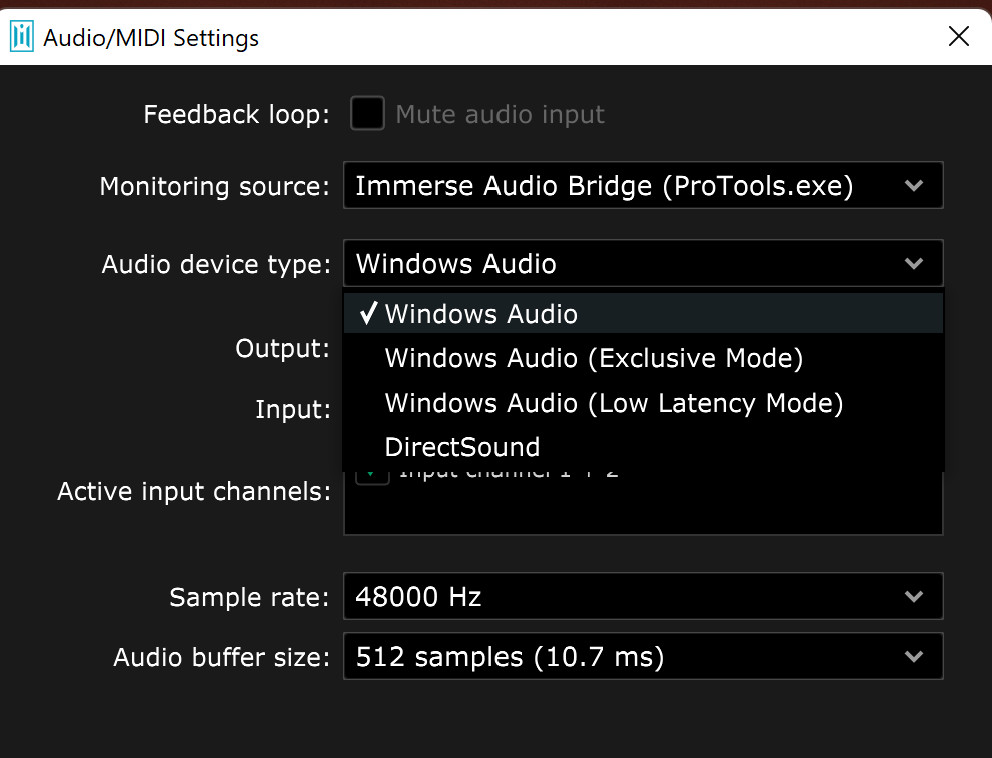 For more information see the Standalone Setup Guides for Mac and Windows linked below.
Related Article:
How do I set up the Immerse Virtual Studio plugin in Pro Tools?
How to set up Immerse Virtual Studio Standalone on Mac?
Windows: How to use Immerse Virtual Studio standalone with different DAW/hosts?