1. After installing Immerse Virtual Studio, when you open Nuendo or Cubase, you should see a pop-up where you can select Immerse Virtual Studio as the audio driver.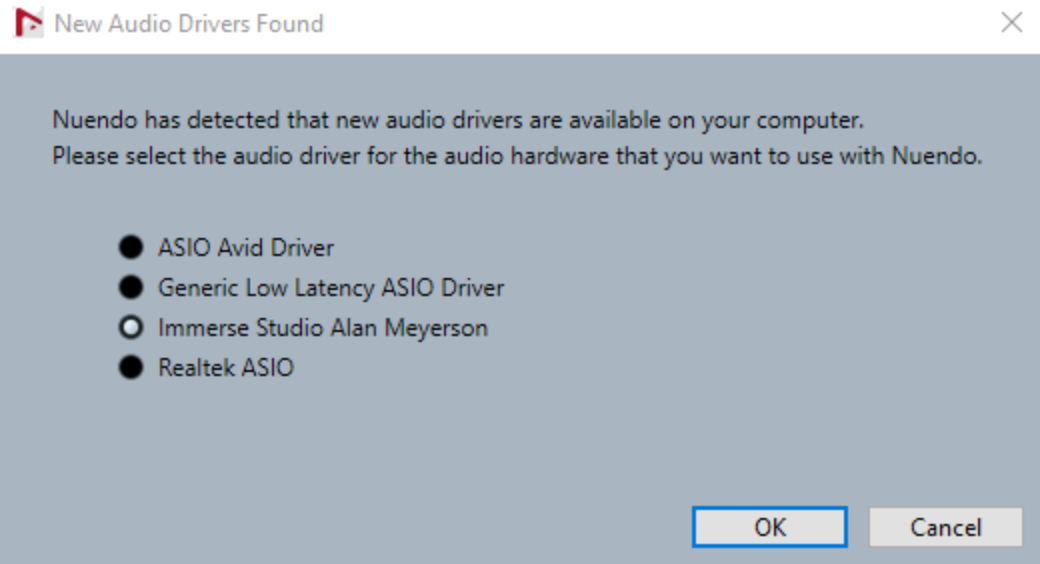 If you don't see the pop-up, you can go to Studio -> Studio Setup and select Immerse Virtual Studio as the driver.




2. Launch Immerse Virtual Studio standalone application from the Start menu.
a. Select Options --> Audio/MIDI Settings...

b. For Windows, set your Monitoring source as Immerse Audio Bridge (Nuendo.exe) or (Cubase.exe)
c. For Mac, set your Input to "Immerse Audio Bridge"
d. Set your output to your headphones

3. Return to Nuendo or Cubase, and open Audio Connections.

3. Go to the Outputs, and click "Add Bus." Select 7.1.6 (or your desired output channel configuration) as Configuration and give a corresponding name to the Bus.

4. Click on your Bus, and ensure that the device ports are set up correctly in order as follows.

5. Now that the Audio Connections is setup, send your audio mix to the Bus and monitor in Immerse Virtual Studio Standalone!


Related Article:
How do I set up the Immerse Virtual Studio plugin in Nuendo or Cubase?