You may want to use Immerse Virtual Studio to monitor the output from Logic as a Standalone application, instead of inserting the plugin into your project directly.

One reason why you may want to externally monitor your session is if you have a lot of plugins and effects and are having performance issues in Logic, you may find more efficiency on your system by using the Immerse Standalone.

To learn how watch this video. and follow along the steps below.

In Logic, go to Preference > Audio and set

Output Device

to 'Immerse Audio Bridge'


If you are using Apple Spatial Audio with Dolby Atmos in Logic, open the Dolby Atmos plugin on your Master track, and select "7.1.4" as your output format.

Open Immerse Virtual Studio | Alan Meyerson standalone application.

Go to Options --> Audio/MIDI Settings and set the

Input

to 'Immerse Audio Bridge' and the 'Output' to your headphones.


When using the Default I/O Assignments

in Logic

, we will need to use a Custom Channel Configuration in Immerse Standalone. For reference, please verify the default channel mapping set in your Logic Session, which should match this screenshot below. Click Initialize: "Default" to reset Logic outputs if needed.


Open the Immerse Standalone and click on Inputs tab. Select any label and drag it to match the channel order shown below.
1: L (Left)
2: R (Right)
3: Lrs (L. Surround)
4: Rrs (R. Surround)
5: C (Center)
6: LFE (LFE)
7: Ls (L. mid)
8: Rs (R. mid)
9: Ltf (L. top)
10: Rtf (R. top)
11: Ltr (L. top surround)
12: Rtr (R. top surround)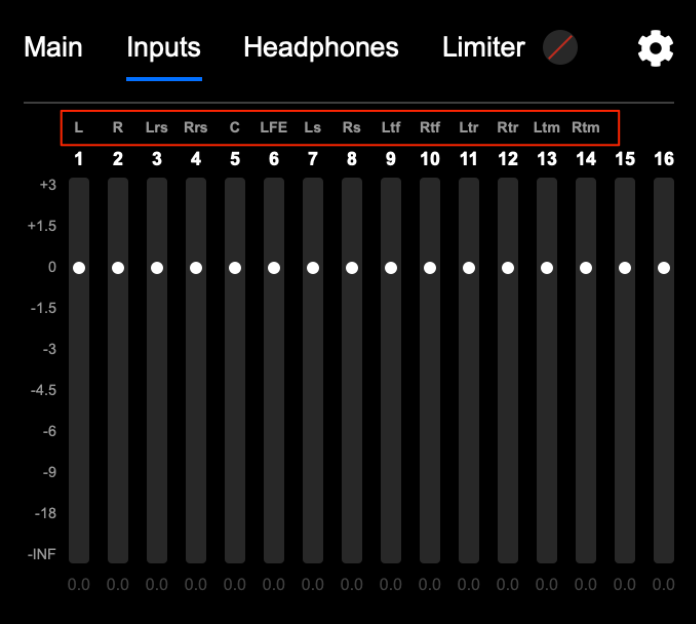 Now press play in Logic, and start mixing!
Related Article:
How do I set up the Immerse Virtual Studio plugin in Logic Pro?