There are several ways to solo or mute the speaker channels.
For Surround Sound and Atmos studios
1. To solo individual speakers, click on the speaker or speakers you would like to isolate in our virtual studio rendering window. If you don't see the virtual rendering of the studio you're using, select the "Surround" view at the bottom of the room, instead of the "Studio", "1", "2", or "3" views.
a) A left click on the speakers will solo them.
b) A right click on the speakers will mute them.
2. In the Main Control Panel, you can also click on the blue orbs.
a) Select M or S to Mute or Solo.
b) Double clicking the orb will Solo.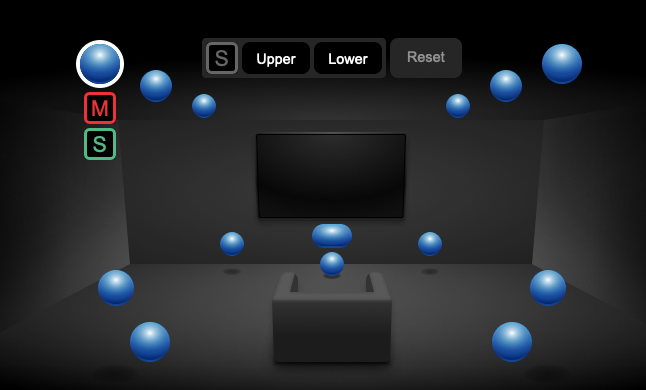 In the center area of the control panel:
c) Clicking on "S" will Solo the lower speakers by default.
d) Clicking on "Upper" or "Lower" will Solo all uppers or all lowers speakers.
e) Clicking on "Reset" will return all speaker to their active state.
3. In the Control Panel, click on the Settings tab to access Advanced Settings. Here you can change the solo behavior from Exclusive to Latch.
a) Latch - solo multiple speakers at the same time.
b) Exclusive - solo one speaker at a time.



For Stereo Studios
Select your monitor pair in the main UI image.
Or, in the Main Control panel below you can select which pair you want to listen to in the "Speaker Selector".