Immerse Gamepack works very nicely with both Internal and External sound cards. However, it is important to avoid running multiple spatial audio and surround sound solutions at the same time, as they will conflict with each other.
AE family of SoundBlaster sound cards (including AE-7 and AE-9) come with specific software, called Sound Blaster Command, which provides multiple configuration options. In this software, there are some settings that need to be configured when using Immerse Gamepack. We recommend doing this before launching FFXIV; otherwise, you may need to restart your game in order for the changes to take effect.
Configure the soundcard for headphones
When opening the Sound Blaster Command, there is a slider on the bottom left corner that allows selecting either headphones or speakers. Please make sure that the option headphone is selected:
Once done, please verify that on "Playback" settings, the Output selected is Headphones as well.
Disable Surround effect from SBX and Scout Mode
From the same SBX Profile menu shown in the picture above, please disable the "Surround" effect. You can also try disabling all SBX sound processing at first, and then add some of the options as you tune the sound to your taste.
Scout Mode can be disabled on the Scout Mode menu, as shown below:
Disable Dolby Digital & DTS Encoding
Finally, go to the "Encoder" menu and select the option "No Encoder":
Please note that all the settings above can also be disabled at once (including any EQ or audio processing) by setting the Direct Mode ON, in the Playback menu: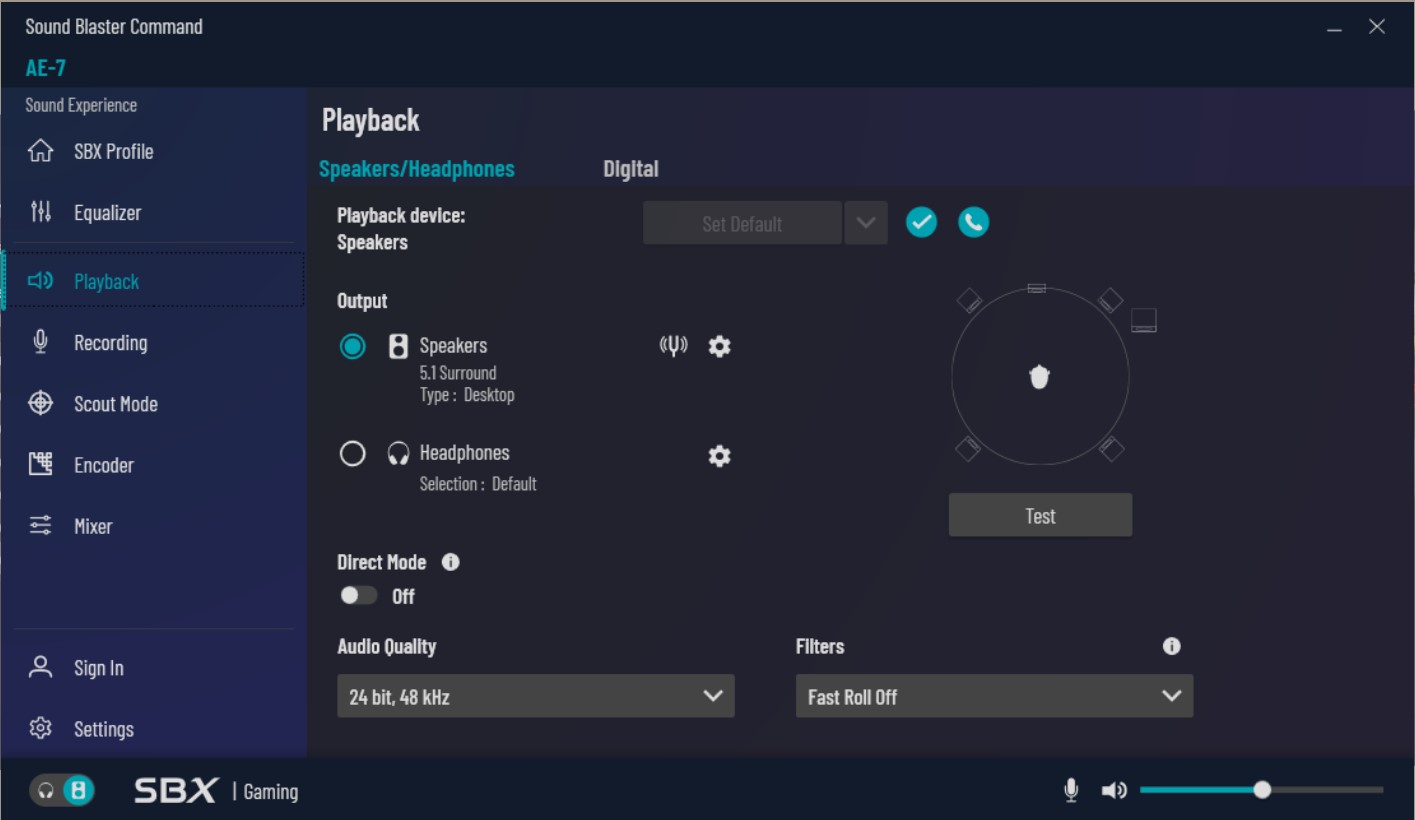 With all these settings turned off, and headphones selected, you are ready to listen to FFXIV with Immerse Gamepack personalized Spatial Audio!